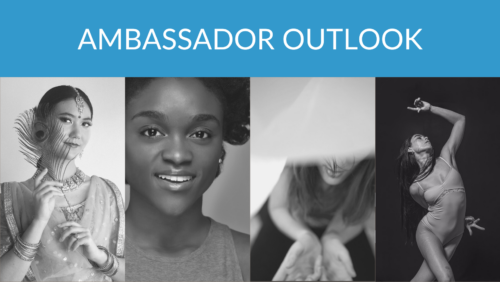 Dance Source Houston is back with our ongoing series of informal interviews with the 2022-23 Dance Ambassadors Mimi DiLuna, Diedre Graham, Bethany Logan and Isabella Vik during their ambassador term, which runs through February 2023. As the cohort continues to meet and plan towards individual community discussions, we're asking them a few questions each month to learn more about each artist and their place in the Greater Houston dance community.
Have a question you would like us to ask the cohort? Send it to us at danceinfo@dancesourcehouston.org!
Dance artists wear a wide variety of hats in many different parts of the dance field – dancer, choreographer, arts administrator, costume designer, teaching artist, etc. Tell us more about your place and identity within the dance community.
BL: Like most dance artists, I fall into many of these categories. I am a teaching artist and arts administrator at Vitacca School For Dance. I also teach for Hope Stone. I am a performer, having just completed a performance with Karen Stokes. I am a choreographer and director, with my company Wild She Dances. I also adjudicate for 8 National Dance Competition.
IV: Along with being an independent artist, I choreograph and produce my own shows, as well as dancing in other choreographers' pieces. I value calling myself a forever student and finding new opportunities in the dance/performance world to learn new ways to expand my craft.
MD: For Mind the Gap in March 2023, I will be performing "Hansadhwani: Voice of the Swan," a self-choreographed solo for which I have designed the costuming, edited the media projection, and created lighting design for. I enjoy wearing different hats and getting hands-on experience in all aspects of production so that I can better communicate with costume makers, lighting, and sound technicians.
DG: Apart from being a dancer, I am an educator, choreographer, and administrator. I also enjoy costume, lighting, and set design, so I like to combine all of those elements to compose my identity as an artist. My emphasis in arts education involves combining the Arts with STEM to make STEAM. With my program Imagine Me: Image in Me, I've been able to introduce young minds to that combination both in the US and internationally.
What are the challenges you're currently experiencing with your work and what are you doing to get past those?
IV: We all have commonality in trying to get funding or finding space, but outside that, a personal struggle comes from finding ways to express myself without feeling like a commodity and the annoyance of having to choose. I have a tendency to want to do four or five things at a time, so through experience, I'm learning to decide which projects I want to juggle instead of getting overwhelmed. The commodity aspect has more to do with my personal identity and avoiding the possibility of being put in a box.
BL: At the start of the new year, I am going to begin choreographing an immersive site-specific work, however, we are unable to rehearse on the site until the week of the show later in the Spring. I have toured the site and taken photos and videos of the space but will be facing creating a work with very specific spaces and props without having access to those spaces/props until right before the performance. This will definitely be an exercise of adaptation, improvisation, and imagination!
MD: One of the projects I'm currently working on is a virtual collaboration with other dancers. It can be challenging because we aren't sharing the same physical space where we could have a more natural and fluid collaboration process. Doing a virtual group project involves a more structured approach where we each work individually and then communicate via videos and calls to mesh our ideas together.
DG: My main problem is that I sit on ideas for years, which is why I'm thankful for this ambassador opportunity. It has really encouraged me to transfer my ideas out of the notes section of my phone onto the stage. Currently, I'm working on a one-act, one-woman show. So, I'm combing through my last edits of the script and then I get to focus on the movement.
What or who are your biggest influences? What or who inspires you to create?
IV: I'll try to keep things short, but a large inspiration for me to create is inherently human. I draw inspiration from philosophy, political theory, the occult, psychology, and the minutiae of human experience. A few artists who have continued to inspire me over the years are Ron Athey, Genesis P-Orridge, collective groups like Asco, Gruppe 66, Current 93, and choreographers like Pina Bausch, Michael Clark, and Marco Goecke. Avant-garde movements, the no wave movement, alternative spaces, and body mods remind me to challenge myself and that it's been done before, how to not recycle clichés. The biggest inspiration comes from my close friends who have supported me in my vision and work.
MD: I'm inspired by how ethnic and folk dances reflect the natural environment and daily lives of people who dance it. For my upcoming performance, "Hansadhwani: Voice of the Swan," where I play the role of a swan, I have been working on incorporating movement vocabulary from 鸿雁 (Hong Yan) which is an inner Mongolian dance. The arm movements in this dance mimic the way swans flap their wings and fly. Since the Mongolian people actually observe these swans in their environment, they deeply understand these birds. Through their dance movements, they are able to not only capture the way swans physically flap their wings, but they also capture the strength, spirit, and essence of these magnificent birds!
BL: Since I was a teenager, I have been very inspired by Doug Varone. His use of bodies in space to create beautiful, controlled chaos mesmerizes me. Third Rail Project is a collective of three artists who make immersive work. Their show "Then She Fell" is one of the most thought-provoking, creative, special dance experiences I've ever had. I am also extremely inspired by Pina Bausch, Camille A. Brown, Andrea Miller of Gallim. Pina Bausch's work is so raw in its humanity. She uses subtlety and nuance within the technique of the dancers and plays on their most human characteristics. Camille A. Brown is an unapologetic storyteller who effortlessly merges contemporary dance with so many various styles of dance. And Andrea Miller's work is evocative and often explores contemporary themes with unique elements such as a dancer on stilts. Finally, I'm very inspired by the work of Anna Halprin, who explored dance as a healing movement for various communities. She often choreographed work with both dancers and non-dancers alike with an emphasis on dance therapy.
DG: I have countless people who have influenced and continue to inspire me, which include Lauren Anderson, Aesha Ash, Traci Byron Young, Ebony Williams, Jessica Castro, Olivia Cipolla, Maya Taylor, Leslie Segar, Tai Jimenez, Aisha Frances, Danielle Polanco, Shernita Anderson, Jamaica Craft, Fatima Robinson, Luam, Rhapsody, Robin Dunn, Camille A. Brown, and my mom, Dr. Angelia Bendolph. My list is endless! From ballet to engineering, these fearless beings have taught me to step into my power and simply be! They've shaped the way I digest movement and contribute to the dance world. They taught me to continue to be multifaceted and train in many styles of dance, which is evident in my movement. I draw inspiration across genres, which include heels technique, ballet, musical theatre, physics, geometry, jazz, and Afrofusion. My inspiration can come from a plethora of sources including news headlines, museum visits or even a simple walk in the park. I draw inspiration from almost every daily encounter.
Stay tuned for our next Ambassador Outlook edition!