New Works by Jesus Acosta, Catalina Alexandra, and Jennifer Mabus.
By Adam Castaneda
Choreographers Andy and Dionne Noble are still flying high from their work on ABC's American Crimes, which premiered earlier this week. Athletic, visceral, and wholly human, the four-minute dance possessed all of the qualities of the Nobles' best work. But the artistic directors of NobleMotion Dance aren't content to simply collect the riches that come with being established dance artists; they're also interested in developing and producing the choreographic voices of tomorrow. In 2015, NobleMotion Dance premiered its Next Step Series, an annual concert that gives selected choreographers a platform for presenting new work without the pressures of booking and marketing their work. This year's Next Step Series showcase, held on January 22 and 23 at the Barn, featured the work of Jesus Acosta, Catalina Alexandra, and Jennifer Mabus.
All three of this year's choreographers are known entities in the Houston dance community and their work on the program reflected the qualities that have come to define their respective bodies of performance work. Jesus Acosta's When Your Feet Don't Touch the Ground embodied his light-hearted, yet, dramatic sense of physicality and space. Opening with the cast's feet in the air, his piece explored the significant, and at times, bemusing relationships we encounter as we pass through life.
It's safe to assume that a piece about human interaction will contain a heavy amount of partnering, and that is certainly true here. Acosta's choreography, and his partner work, is weighty, but not cumbersome. The dancers handled themselves with fluidity and grace, possessing the weightless quality of Acosta's spirited personality. He is adept at moving into the floor and bounding out of it, a trait his cast also shares, and his movement phrases reminded me of a stone skidding across water, sprightly, but also connected to the surface.
The piece ends with Acosta in an inverted stance, his feet waving in the air. A dancer comes by and slips on a pair of high-heeled shoes on his feet before the stage goes to black. For me, the piece is a reminder that our lives are often shaped, fashioned, and ultimately, changed, by the people in it whether we are conscious of the transformation or not. In the dance itself, Acosta positions himself as observer of the characters that populate his trajectory, but I would have liked to see him interact with his cast in a more, direct, proactive way, and perhaps a stronger sense of individuality given to each character to more fully understand his or her function in the life that is being examined.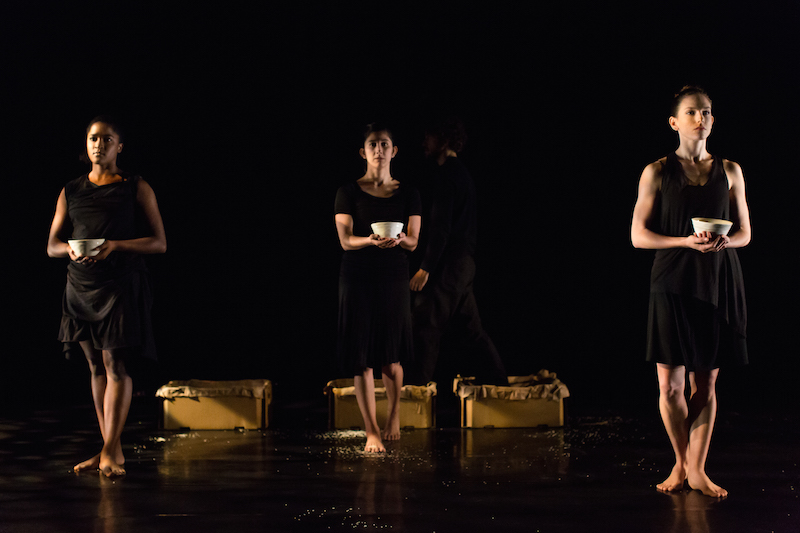 Catalina Alexandra's Five Pecks of Rice proved to be more meditation than executable concept. Rice was a pivotal prop device in the piece, with the beginning trio of dancers sifting through boxes of the stuff. Rice has many connotative meanings, including sustenance, prosperity, fertility, ceremony, and, most dramatically, life itself. Alexandra's greatest accomplishment here is the wonderful imagery she creates on stage as the visual tapestry is informed by the malleability of her chosen
prop. The dancers and live accompanist weave a labyrinth of mysterious human connection, as each body takes its turn taking the lead of the ensemble, changing the direction of the loose narrative. The most interesting movement sequence came from a duet between Jacquelyne Boe and Candace Ratliff, but all performers brought an intensity of the piece that matched its suggested gravitas. I do wish, however, that the piece would have had a sharper thematic focus and a more direct choreographic connection to the literal significance of rice.
Perhaps the most developed work on the program, and certainly the most compelling, came from Jennifer Mabus. Her The Art of Losing, an investigation of memory and the loss of it, proved striking on several counts, but most notably in Mabus' sophisticated choreography, which accurately portrayed the permeability of the happenings of the human brain. Her all-female cast, costumed in identical dresses, seemed to manipulate a common phrase, suggesting the many interpretations and perspectives a single set of memories can suggest.
The loss of memory is tied to the loss of brain function, and the loss of living an independent life. The idea that memory is tied to who we are as physical bodies of matter, and the deterioration of memory is also the deterioration of the self is a frightening conceit. Lynn Lane's improvisational soundscape added to ominous quality of the piece, a kind of psychological horror that I hard to watch, but equally hard to look away. Mabus' movement is multi-faceted and fractured, but retains a wholeness that is satisfying to watch. For me, her exploration of the subject matter was the only piece on the program that felt complete and fully realized. This was my first time experiencing her work, and it made me want to see more of it, which is what programs like the Next Step Series is supposed to do: introduce dance artists to new audiences and create an interest in their output.
Adam Castaneda is a dancer, writer, and arts administrator. He is the Executive Director of FrenetiCore, and performs with Suchu Dance, Holding Space Dance Collective, Heather VonReichbauer, and Intuitive African Dance and Drum Culture.