FOR IMMEDIATE RELEASE
Contact: Andy Noble
Co-Artistic Director, NobleMotion Dance
Tel: 832-627-9664
E-mail: andy@noblemotiondance.com
Website: www.noblemotiondance.com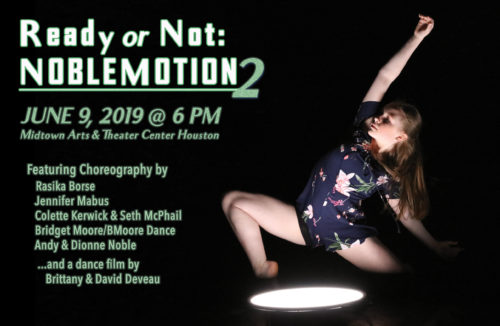 HOUSTON, TEXAS – May 9, 2019 – NobleMotion Dance's pre-professional company returns to The MATCH in Ready or Not… NMD2, June 9th at 6:00 PM. The evening includes original works by Bridget Moore, Jennifer Mabus, Rasika Borse, the Nobles, and NMD2 Directors Colette Kerwick and Seth McPhail. Dance technology is also featured in a new film by David and Brittany Deveau. Athletic, generous, and communal ­– Ready or Not highlights the talents of ten up-and-coming dance artists.
Acclaimed Dallas choreographer Bridget Moore premieres her new work. The dance couples intricate phrases and innovative partnering as it examines spatial relationships. Getting a little more personal, May We Raise Them, May We Be Them by Houston's own Jennifer Mabus explores femininity and strength. Mabus uses original text that she developed with the dancers as part of the sound score to create a moving piece that shares a little of each dancer's personal journey as a woman.
Playful and light-hearted, Colette Kerwick and Seth McPhail's Common Ground explores community through sumptuous movement and friendly competition. It's a feel-good piece that evokes images of simpler times. Rasika Borse's Rangtaari-a Celebration integrates Bollywood with contemporary dance. It's an exuberant work with nuanced movement and patterns.
Combining full bodied movement with gestural explosions, the Noble's build a creature-like world in Shoal. Images of thick sand and murky waters permeate the dance. And finally, a new dance film by David and Brittany Deveau plays with the moving body in light and shadow.
Tickets range between $8-12. Tickets can be purchased online at www.matchouston.org or by calling 713-521-4533.
DETAILS
Ready or Not… NMD2
The MATCH – Midtown Arts and Theater Center Houston
June 9th @ 6:00pm
Tickets: $12 Regular Admission, $8 Student.
Purchase online at www.matchouston.org or call 713.521.4533.
FOR HIGH RESOLUTION IMAGES
Contact: Andy Noble
andy@noblemotiondance.com
832-627-9664
NobleMotion Dance is a 501(c)(3) non-profit performing arts organization. In 2009, NobleMotion exploded onto the Houston dance scene and has since received critical acclaim for their "extraordinary athleticism" and "cutting edge" programming. NobleMotion Dance seeks to make work that is emotionally daring and honest; inspires discourse and understanding amongst diverse communities; and integrates dance, theatre and technology in unique ways. Artistic directors Andy Noble and Dionne Sparkman Noble are long time collaborators who have been entertaining audiences for twenty years. NobleMotion also offers education and outreach programs for all ages including master classes, open rehearsals and lecture/ demonstrations. For more information about NobleMotion Dance, please visit us at noblemotiondance.com.