FOR IMMEDIATE RELEASE
Contact:
Mollie Haven Miller
Executive Director
Dance Source Houston
mollie@dancesourcehouston.org
Dance Source Houston Celebrates 5 Years of Barnstorm Dance Fest
June 19-23 at Midtown Arts and Theater Center Houston (MATCH)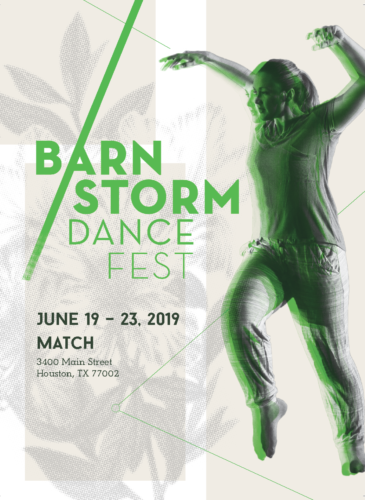 HOUSTON, TX – Dance Source Houston (DSH) will present the fifth annual Barnstorm Dance Fest June 19-23, featuring 20 diverse dance works by choreographers from the Greater Houston region and beyond. The 2019 festival features a new, condensed one-week format, offering performances, master classes and an artist talk. The Barnstorm line-up showcases a range of dance genres including Bharatanatyam, breakdancing, contemporary, flamenco, Garba, Kathak, modern, and more. A total of 6 performances will be offered, with 2 chances to see the 3 unique programs.
Dance Source Houston's 2018-19 Artists In Residence (AIR), Adam Castañeda, Ayan Felix, Kalpana Subbarao and Uwazi Zamani, are among the featured choreographers. These 4 dancemakers have received artistic and professional development, rehearsal space, and a monetary stipend through the nine month residency program. The AIRs will also be highlighted in an opening night preshow artist talk facilitated by dance writer and researcher Jessica Herzogenrath.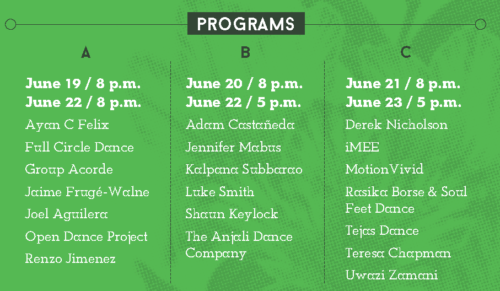 Local artists returning to the Barnstorm stage include Group Acorde, iMEE, Jennifer Mabus, Open Dance Project, Teresa Chapman, and The Anjali Dance Company. Houston-based artists sharing their work with Barnstorm audiences for the first time are Derek Nicholson, Jaime Frugé-Walne, Joel Aguilera, Rasika Borse, and Renzo Jimenez. Visiting artists on this year's program include Full Circle Dance (Allen, TX), Shaun Keylock (Portland, OR), MotionVivid (Salt Lake City, UT) and Tejas Dance (Plano, TX). Learn more about the festival choreographers and companies at dancesourcehouston.org.
Tickets to attend a single program are $20 ($25 at the door). Multi-program passes are also available. Tickets may be purchased at matchouston.org.
What: Barnstorm Dance Fest
When: Program A – June 19 & 22 at 8pm // Program B – June 20 at 8pm & June 22 at 5pm // Program C – June 21 at 8pm & June 23 at 5pm
Where: Midtown Arts & Theater Center Houston, Matchbox 2, 3400 Main Street
Cost: Single program – $20 ($25 at the door) // 2 programs $35 // 3 programs $50
Tickets are available at matchouston.org.
About Dance Source Houston
Dance Source Houston is a 501(c)(3) nonprofit organization dedicated to supporting dance artists and organizations, and to increasing the visibility of dance in Houston. Founded in 2005, Dance Source Houston is a resource for all things dance in the Greater Houston area and provides programs and services to address the evolving needs of the local dance community. Dance Source Houston is funded in part by a grant from The City of Houston through the Houston Arts Alliance, Houston Endowment, Inc., and Texas Commission on the Arts. www.dancesourcehouston.org
###