Contact: Sara Draper
TapHappy@dancepath.com
832-995-9004
www.TapHappyDance.com
Tap Happy lowers age requirement for its advanced level adult tap class.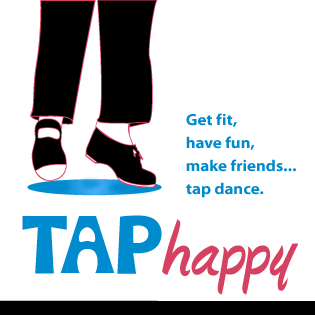 Houston, Texas, USA – January 21, 2018 – Tap Happy has announced that, as of January, 2018, its advanced level tap class has lowered its age requirement to 18 years.  The advanced class is called Tap 4 Dancers, or T4D.  Up to now, Tap Happy has always maintained that it offers "tap dance classes for adults age 21 to 91".
Tap Happy teaches Broadway style tap dance classes—from introductory to advanced levels—to adults, normally, with a minimum age requirement of 21 years. This creates an environment comfortable for adults who prefer to socialize and dance with their peers rather than share class time with teens and younger children (as happens in many studios).  However, this year, starting with the 8-week Winter Term course in January and February, 2018, for the Tap 4 Dancers level only, dancers as young as age 18 are accepted.   Age 21 remains the minimum for all other classes.
Tap Happy decided to open up T4D to this younger age group, "due to the number of pre-professional dancers who need extra stimulation at a critical time in building their careers," according to owner, Sara Draper. "This is also a class for retired dancers who want to continue enjoying dancing at this level, as well as the usual young-adult and more mature tappers who are continuously building their skills."
The T4D class is designed for tappers at the advanced-intermediate level and up. It is for musical theater performers and well-rounded dancers who tap, and who want to sharpen all of their stylistic finesse, technique, and rhythmic chops. The fast-paced lessons may include variations on turns, athletic steps, rhythm tap, or musical comedy combinations. Performers can use it to brush up for auditions.  It is taught by a rotating roster of top-notch instructors, who usually switch out every two lessons, to offer variety and keep dancers on their toes.  This also means that if someone has to miss a class or two for a rehearsal or performance, they are never more than one lesson behind the class. 
Tap Happy offers a special discount for musical theater and dance professionals, and "drop-ins" are welcome, too.
Tap Happy is Houston's only business devoted exclusively to adults who want to tap dance, and Houston's only studio to offer a broad range of options for them.  It received the "Best Adult Tap Dance Classes" Houston Press award for 2014, 2015, and 2016.  It offers five technique levels, TapAerobics, master classes, and features a performing group, HTHT. Classes are held in Houston's Historic Heights, where this home-grown small business serves to make dreams of tap dancing come true. Reach Tap Happy at www.TapHappyDance.com, TapHappy@dancepath.com, or 832-994-9005.
###