FOR IMMEDIATE RELEASE: Contact: Michele Brangwen Dance Ensemble 832 659-5096 www.brangwendance.org
THE MICHELE BRANGWEN DANCE ENSEMBLE PRESENTS NEW
DANCE, MUSIC AND FILM THAT EXPLORES THE IDEA OF
CLOSENESS
Saturday August 18 at 8 p.m.
MATCH, Matchbox 2 3400 Main Street
Tickets: $20 General Admission
$15 Students & Seniors
$5 Art For All Tickets (25 available)*
$35 Patron tickets*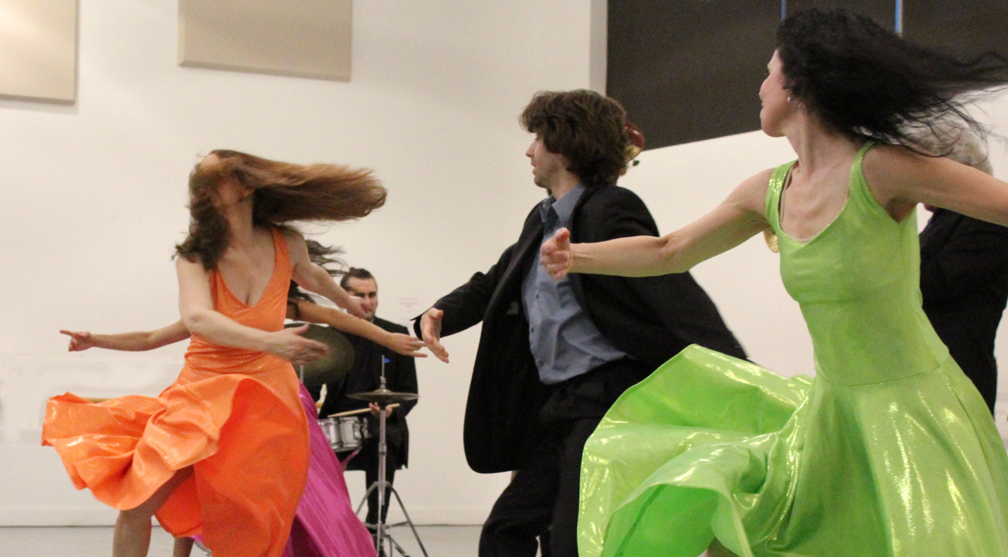 The Michele Brangwen Dance Ensemble presents CLOSENESS, an evening of new dance, music and film that explores the idea of closeness between people. The program will feature the premiere of "Closeness" with choreography by Michele Brangwen, music by Charlie Haden & Alice Coltrane as arranged by Tim Hagans, and featuring sections of movement and music created in the moment.
CLOSENESS takes its title from the album "Closeness" made by legendary bassist & composer Charlie Haden in 1976. The recording featured "For Turiya," a composition by Charlie Haden written for pianist and composer Alice Coltrane to perform with him on harp for that recording. Tim Hagans has arranged both the stunningly beautiful melody of "For Turyia" by Haden, as well as melodic lines improvised by Alice Coltrane on the harp, for voice, bass, trumpet & saxophone. The four musicians are joined by the dancers in a work that continually shifts focus between different pairs of performers, while also exploring the ways in which the ensemble is interconnected in performance. 
Brangwen writes: "When I first heard "For Turiya" as performed by Ravi Coltane, Alice Coltrane's son, the music took me to an indescribable and mysterious place of beauty. Turiya was Alice Coltrane's Sanskrit name which she adopted. The composition is in essence a modern jazz standard, although rarely performed except by Ravi Coltrane. The music performed live in this version will be unique and created in part by the musicians performing the work, but it will also include the beautiful soaring melody by Haden, as well as these beautiful melodic lines created by Alice Coltrane."
The program will also include "Rain Girl," a feature for dancer Robin Gilbert Campos & trumpeter Tim Hagans that tributes the resilience of the human spirit, and an excerpt from "What Will You Do When You Feel Their Absence?" with choreography & text by Michele Brangwen and music by bassist and composer Thomas Helton.
Set in an intimate bar/café that could be in any city, "What Will You Do When You Feel Their Absence?" invites the audience to watch as stories unfold about how we are all connected to each other. Brangwen writes: "The "Friends" section of the work which we will be performing on this program focuses on the closeness of friends, and also the power of people coming together. It fit with the over all theme of the evening, and is quite relevant as we currently have an immigration policy that is an affront to our collective humanity."
In addition to live performance works, the evening will also feature the premiere of two shorts by filmmaker Yunuen Perez Vertti on the subject of closeness. 
Performers are Robin Gilbert Campos, Adam Castaneda, Yuritzi Govea, Michele Brangwen, dancers; Danielle Reich Seale, voice; Tim Hagans, trumpet; Seth Paynter, saxophone, & Thomas Helton, bass. New film from Yunuen Perez Vertti. Lighting Design by Kris Phelps.
The Michele Brangwen Dance Ensemble is a contemporary dance company featuring all new choreography, live original music, and the integration of all our musicians into the visual imagery, so that dancers and musicians break the boundaries of traditional ensemble interaction. In 18 years, every performance has included live music and the musicians as integral parts of the visual stage imagery. We believe that the artist's role in society is to communicate, to challenge, to open a dialogue that can both unite us and inspire meaningful change. We function like a jazz band, and along with sections of choreographed movements and written music, we use improvisation that comes out of the form, concept, and emotional life of the work. The Michele Brangwen Dance Ensemble is based in Houston & New York City.
"Lovely dancers & intensely focused musicians." – Mindy Aloff
Village Voice Choice, February 2017
"A joy to watch" – Houston Press
*Sliding Scale Tickets: We have added two new ticket levels to our performance at the MATCH. We feel that art should be made available to everyone, regardless of their budget. So in addition to our $20 General Admission, and $15 Student & Senior Admission prices, we have made available 25 tickets at the "Art For All" rate of $5. Audience members can also purchase $35 patron tickets that include credit as donors in upcoming programs. We invite the audience to choose the level that is right for them.
Friday August 18, 2018 at 8 p.m.
MATCH HOUSTON THEATER 2 3400 Main Street Tickets: $20 General Admission $15 Students & Seniors $5 Art For All Ticket (25 available)* $35 Patron Tickets* Tickets at www.matchouston.com More info at www.brangwendance.org