Media Contact
Amy Pearl
Hope Stone, Inc.
713.526.1907
amy@hopestoneinc.org
Hope Stone Dance and the Moody Center for the Arts at Rice University  
present coolest news on planet earth, chapter 2
Inspired by and set among We Make Carpets' installation Crêpe Paper Carpet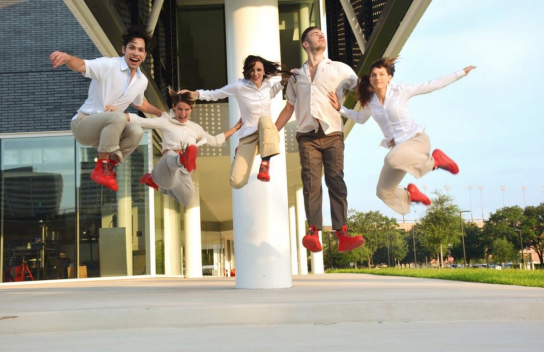 Photo by Alana Campbell
Houston, TX (July 12, 2018) – Hope Stone Dance (HSD) returns in August to the Moody Center for the Arts with its newest work coolest news on planet earth, chapter 2, conceived and choreographed by HSD's Artistic Director Jane Weiner. The work is inspired in part by the Moody's newest site-specific installation Crêpe Paper Carpet, a standing installation of 65,000 folded sheets of crêpe paper created on site over a three-week period by the Dutch collective We Make Carpets, comprised of artists Marcia Nolte, Stijn Van der Vleuten, and Bob Waardenburg.
This summer's second chapter is a continuation of HSD's presentation of chapter 1 of coolest news on planet earth that was performed last fall at the Moody. The first iteration immersed dancers in Mickalene Thomas' Waiting on a Prime-Time Star exhibition. Chapter two emphasizes the same thoughtful relationship between art and dance that is a feature of the Moody's Central Gallery given its dual role as both a visual arts gallery and a dance venue with its wooden sprung floor. Weiner has been moved to explore how the mind and body responds to We Make Carpets' vibrant carpet wall of color. Its placement, dividing the gallery but open on all sides, gives unrestricted space for the dancers to fully inhabit the area while simultaneously creating a barrier.
Weiner will rehearse for two weeks prior to the performances directly in the space, giving her and the dancers further freedom to kinesthetically relate to the art work: Is it an obstruction? Is it piñata-inspired joy? Or is it the coolest news on planet earth that cultures are bonded through art?
Through six, hourlong evening performances running Thursdays through Saturdays, August 9, 10, 11, 16, 17 and 18 at 7:00pm, an intimate audience will have the chance to contemplate those questions and more. Reception follows after the opening night performance, complete with milk and cookies.
Hope Stone Dance company artists are Jacquelyne Boe, Joshua DeAlba, LaRodney Freeman, Kelsey Gibbs, Rachael Hutto, Travis Prokop, Donald Sayre, Candace Tompkins, and Brit Wallis, with sound design by Firat Ozsoy and lighting design by Mother Nature. 
DETAILS:
coolest news on planet earth, chapter 2
August 9, 10, 11, 16, 17, 18, 2018 @ 7:00pm
Moody Center for the Arts at Rice University
6100 Main Street (University Entrance 8, at University Boulevard and Stockton Street)
Houston, TX 77005
Tickets: $25; to purchase, visit https://coolest-news-on-planet-earth.eventbrite.com
###
ABOUT HOPE STONE, INC.
Hope Stone, Inc. is a non-profit arts organization consisting of the choreographic endeavors of Artistic Director Jane Weiner through Hope Stone Dance, a professional modern dance company, and The Hope Project, an arts education outreach program that reaches underserved populations in Houston. Founded in 1997, Hope Stone strives to unlock the innate creativity of children and adults through the performing arts. hopestoneinc.org
Hope Stone is grateful to the following sponsors and foundations: Brown Foundation, Charity Guild of Catholic Women, Cullen Trust for the Performing Arts, Dance Source Houston, Wayne Duddlesten Foundation, The Fant Foundation, Favrot Fund, The Fender Music Foundation, Fondren Foundation, Twilight and Marc Freedman Foundation, Frost Bank, The Hobby Center Foundation, Hollister-Clagett Family Foundation, The Holthouse Foundation for Kids, Houston Arts Alliance, Jennings Dincans Charitable Fund, The Kaplan Family Foundation, Kinder Morgan Foundation, McCrea Foundation, The Nugent Foundation, The John M. O'Quinn Foundation, Sequoia Foundation, The Simmons Foundation, Texas Commission on the Arts, Texas Women for the Arts.
ABOUT THE MOODY CENTER FOR THE ARTS
Inaugurated in February 2017, the Moody Center for the Arts at Rice University is a state-of-the-art, noncollecting institution dedicated to transdisciplinary collaboration among the arts, sciences and humanities. The 50,000-square-foot facility, designed by acclaimed Los Angeles-based architect Michael Maltzan, serves as an experimental platform for creating and presenting works in all disciplines, a flexible teaching space to encourage new modes of making and a forum for creative partnerships with visiting national and international artists. The Moody is free and open to the public year-round. moody.rice.edu