Maggie Lasher's Holding Space Dance Collective
Premieres The Burning Times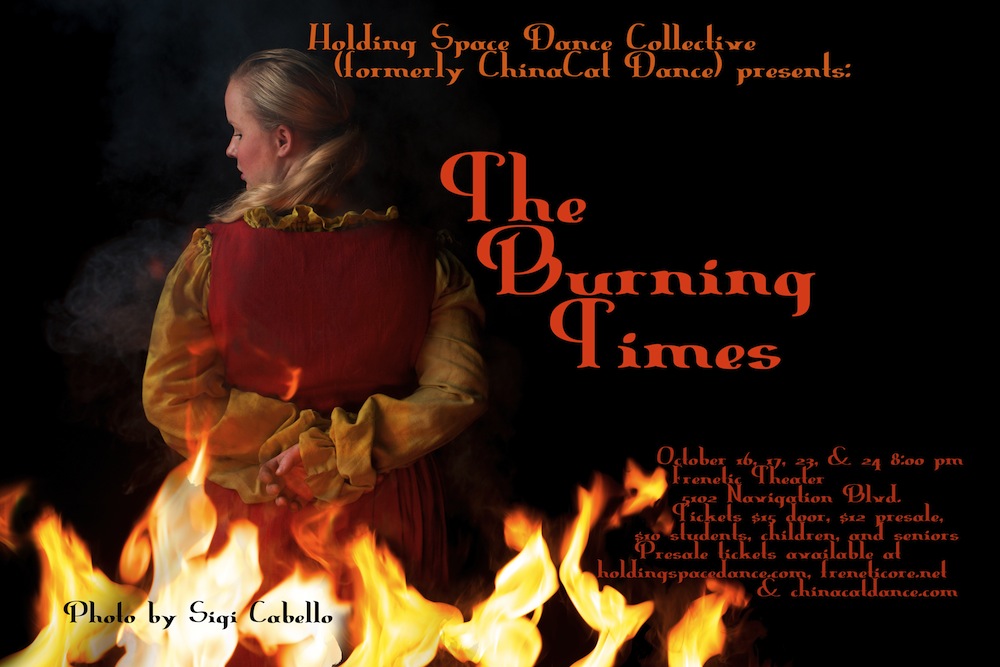 Artistic Director Maggie Lasher isn't just on the cusp of premiering a full-length narrative work, she's also in the midst of rebranding her contemporary dance troupe via a name change. Her company is no longer ChinaCat Dance, but Holding Space Dance Collective, a name she says is more indicative of the thematic content of her choreography.
"It's definitely a new direction," says Lasher. "I do a lot of work that is touching, not physically, but touches the heart. I like the idea of holding the audience in your space, so that you can take them on a nonverbal journey and connect with them on an emotional level."
ChinaCat Dance's repertory was of a more whimsical nature, and took inspiration from animal life and creature movement. But Holding Space Dance Collective, which draws its name from the metaphysical term to create a safe haven for the exchange and full realization of thoughts and emotions, is much more suitable to Lasher's upcoming show, The Burning Times, which opens at Frenetic Theater on Oct. 16 and runs for two weekends.
The Burning Times is about serious business, namely, the burning of accused witches in the Europe of 200 years ago. Lasher, who is a full-time faculty member of the dance department at Houston Community College, weaves a narrative that follows an unfortunate woman who is betrayed by her friends and neighbors and accused of witchcraft. The audiences witnesses the first moments of her accusation to her subsequent imprisonment to her eventual fate. Will she be found innocent, or will she fed to the flames? The audience won't know until the end of the show.
There's plenty of drama in The Burning Times, and much of it comes from the complexity of the central character. "I was drawn to her emotional journey," says Lasher. "I spent a lot of time as that witch, and felt connected to the part. I asked myself, what would drive someone to accuse a neighbor, a friend, of eating babies and having sex with the devil?" In her research, Lasher found documentaries, television series, academic papers, and even graphic novels, but not a single dance.
During the run of her last full-length show, Aquaria, one of her longtime dancers jokingly asked if in the next show they could be people. That comment, along with her fascination with European witch hunts sparked the idea for the show.
"As a pagan, I've always been intrigued by that material," she says. At around the same time Lasher conceived of the concept, she was already steeped in the subject matter as a writer for a pagan blog project. And even though the real Burning Times were fueled by Christian ideology, Lasher's show stays clear of commenting on the religious aspect of this historical period. Rather, she focuses on the sociological themes of mob mentality and fanaticism, and how untruths can be transformed into bleak reality.
But she does play with fire. Lots of fire.
The show begins inside Frenetic Theater and then moves into the facility's outdoor patio area where the last section of the narrative incorporate the company's fire performance abilities. Fire is an integral part of Holding Space's identity, but this is the first time Lasher is using the element as a pivotal plot device. She's been spinning fire for well over ten years, and became initiated into the art form via Burning Man, parties, and festivals. "Because I'm a dancer and have a dance career, I've always been interested in how I can use fire in ways that I haven't seen it being used." While fire performance is often the featured entertainment at nightclubs, corporate evens, and parties, Lasher's aim is to develop ways to use fire in a more artistic manner.
Fire, as Lasher demonstrates, can be art, but it also makes for serious social commentary. The work identities strong parallels between the Burning Times and our world today. "We still see this idea of fanaticism, whether it's religious or cultural," she says. "These ideas flare up, and we're killing people over it. We're not singling out one person anymore, it's a genocidal thing."
Audience members familiar with the Salem Witch Trials shouldn't come in expecting a familiar narrative. As Lasher points out, the American witch hunts were largely relegated to the one incident in Salem, whereas in Europe, the flushing out of alleged witches was very much a part of the culture for more than two centuries. Each country across the continent manifested the hunts in different ways, but Lasher looked to Germany for the basis of her production. Germany, as it turns out, enforced the worst torcher and executed the greater percentage of its convicted witches by burning.
Heading into tech week, she says her dancers have just now started to feel the gravitas of the full show. The Burning Times may be a departure for the newly renamed Holding Space Dance Collective, but it's one that's ushering in a new chapter of more emotionally driven work.
The Burning Times runs October 16, 17, 23, and 24 at Frenetic Theater at 8 p.m. For tickets and more information, visit www.freneticore.net.
Adam Castaneda is a dancer, writer, and arts administrator who lives in Houston. He is the Executive Director of FrenetiCore and is a company member of FrenetiCore Dance.