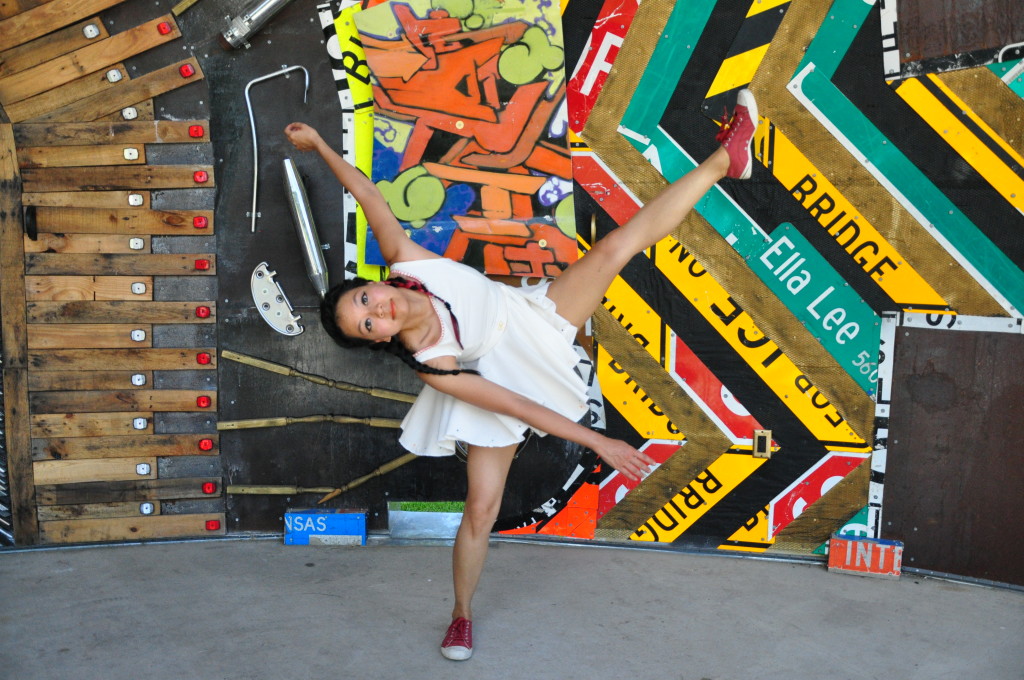 By Adam Castaneda
Site-specific dance works do not just offer choreographers the opportunity to create beyond the parameters of the proscenium stage, but they also provide the chance to imbue locations with new meaning and mine layers of unexplored character. But what happens when the site of choice is the Orange Show Monument, a location already blessed with a larger-than-life personality and a vibrant visual score? One answer is Wishing Well, Houston-based choreographer Ashley Horn's evening-length work, which traveled across the adjoining Smither Park and into the Monument twice on October 3.
The Orange Show Monument is the creation of Jeff McKissack, a postman with a penchant for citrus, and is built almost entirely of found materials. This East End landmark is a mini palace of a maze filled with enchanting mosaics and pro-orange sayings (who knew there could be such a champion for fruit?) made all the more whimsical by the environment's handmade quality. The Monument is a natural setting for Ashley Horn's work; if the literary genre of magical realism had a dance equivalent, Horn's work would be it.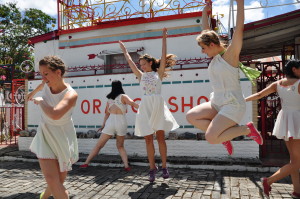 Wishing Well began at the far side of Smither Park, with the dancers emerging from behind the Lindley Fish stage, limbs and intentions exploring the space around them. It's a stunning image to see the Lindley Fish, made of glittering metal parts, giving birth to these shy, curious figures. But all sense of demureness is abandoned once the green is reached and the dancers go speeding in different directions, almost like a pack of children unleashed on a playground. Of course, that's exactly what's happening, and it might be one of Horn's most important statements, that growing up doesn't always mean becoming an adult.
Horn's movement in Wishing Well is as elegant and buoyant as always, but it's also more grounded and earthy than usual. Here, her dancers literally become part of the landscape, which makes for some really handsome floor work. They could be flowers in bloom, or earthworms dug up, or birds in repose. But when they come off the ground, they really take flight.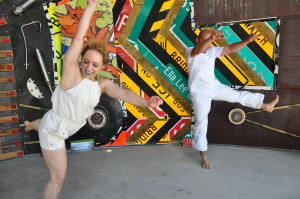 Even during dusk the colors of the many mosaics and textures from the repurposed materials of Smither Park offered a striking visual palette, which in turn highlighted the smart choices of Ashley Horn's costume design. Rather than continue the busyness of the park's color motif, she deftly went by utilizing the simplicity and elegance of white garments. On closer examination, the dresses, shirts, and pants aren't blank canvasses, but backdrops to delicate, flowery embroidery unique to each performer. For the embroidery work, Horn drew inspiration from the personalities of her dancers, but even if one never got up close enough to make out the distinct shapes, the soft pops of color were a fun homage to McKissack's small war on banality.
Horn's dancers are always a pleasure to watch, and Wishing Well provided ample opportunity for sudden bursts of individual flourishes. Among the standouts, I always appreciate watching Daniel Adame travel through space, his movement and energy filled with an earnestness for his work that is downright infectious. Jacquelyne Boe pushes Horn's movement to its fullest and most ambitious, turning even the slightest pivot or gesture into a noteworthy moment, while Tina Shariffskul looks completely at home in this enchanted world of inversions and release technique. And Mollie Miller's sleep spell moments recall her sophisticated solo work in Horn's last show, Dans La Lune.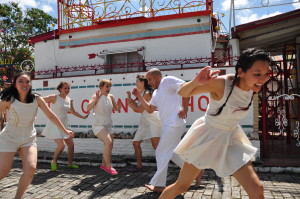 The piece lost a bit of momentum once it moved into the Monument itself. The dancers scatter and populate the various nooks and crannies of the labyrinth, and become their own spectators. They might be amusement park visitors of a bygone era, a team of explorers canvassing new terrain, or simply daydreamers lost in each one's own fantasyland. Glimpses of tiny narratives were revealed, but never fully realized. In this segment of Wishing Well, the audience must be an active participant in order to experience the movement. Dancers appear and disappear, then reappear in different locations with different groupings or then suddenly decide to sit with the audience. The problem for the audience, at least for me at least, is that even watching the most interesting movement, it was hard avoiding the pesky urge to want to see everything at once.
Wishing Well ends on a high note, though, as the dancers become an ensemble in the Monument's amphitheater. Movement motifs return from the choreography in Smithner Park, but take on a grander effect on the makeshift stage. The show ends with the dancers lost in sleep; it's a gorgeous moment that affirms that the world of reality and dreams are not necessarily separate, but perhaps more connected than we know. McKissack may have created his Monument as a testament to the life-fortifying power of good nutrition and the inherent satisfaction of hard work, but the Orange Show is also about the importance of developing dreamscapes in the real world. Horn's Wishing Well is a product of McKissack's dreamscape, but in turn also creates a powerful one of its own.
Adam Castaneda is a dancer, writer, and arts administrator who lives in Houston. He is the Executive Director of FrenetiCore and is a company member of FrenetiCore Dance.