Shanon Adame Presents An offering…
At Barnstorm Dance Fest
June 15 & 22
MATCH Houston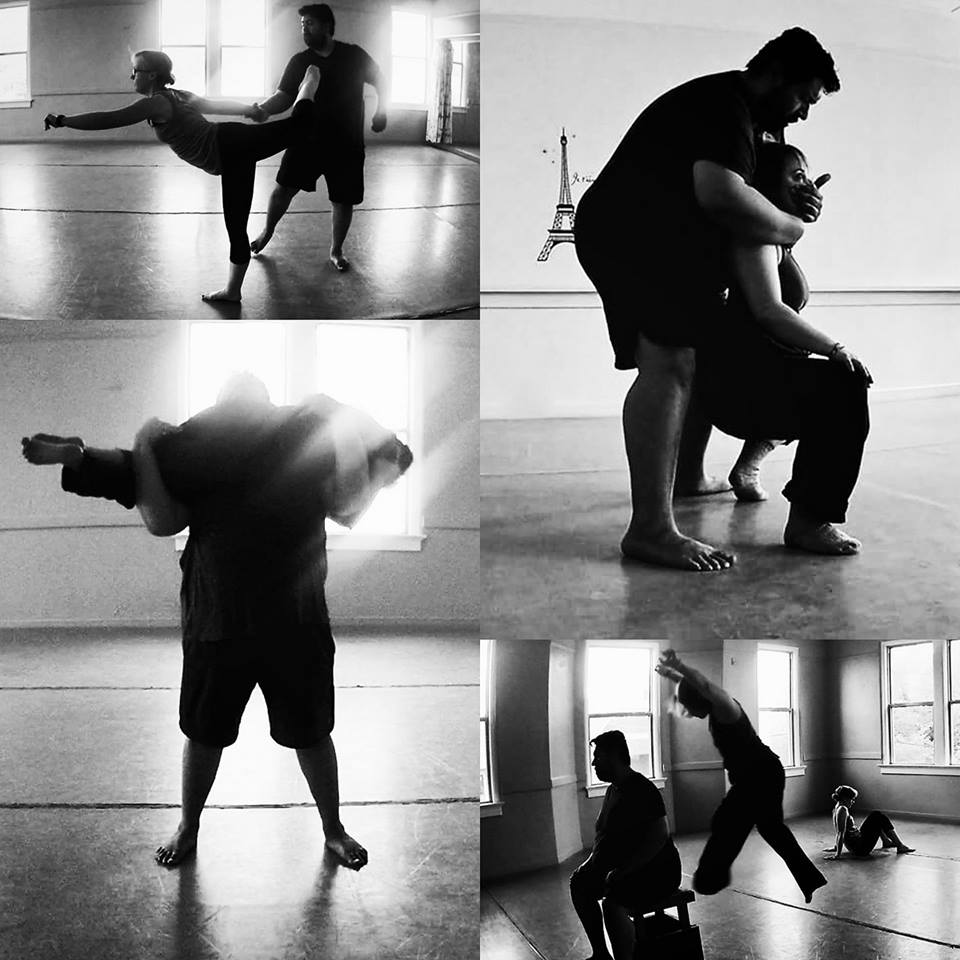 (Houston, TX, May 15, 2018) In collaboration with Houston poet, Lauren Berry, choreographer Shanon Adame will premiere her work, An offering…, at Barnstorm Dance Fest on June 15 and 22 as part of the two week festival. Adame's new dance work addresses rape and sexual assault. Using excerpts from Lauren Berry's "The Lifting Dress", An offering… provides a glimpse into the very personal and visceral experience of life after sexual assault.
"Working with Lauren's writing has guided the movement and individual "character work" of the piece in a really intuitive way. I tried to stay true to the tone of her work while adding my own style of movement and performance. The piece has organically evolved from a dance work into more of a dance theatre piece. I drew inspiration not only from Lauren's work and my own personal experience, but also from apex predators. I studied their body language and movement when confronted with aggression and utilized that in my piece to give a sense of strength to the women who had endured such an incredible trauma.", said Adame.  
Shanon is developing an offering… through Dance Source Houston's Artist In Residence program which offers artists space and tools to create. She is part of the 2018 residency cohort with fellow AIRs Lindsay Gary, Lisa Harris, Ashley Horn, Abijan Johnson and Kate Rash, who will also present work alongside Adame in Barnstorm Dance Fest's Program B.
For tickets to see Adame's work on June 15 and 22 visit dancesourcehouston.org and matchouston.org.
---
Lauren Berry Lauren Berry received a BA in Creative Writing from Florida State University and an MFA from the University of Houston where she won the Inprint Verlaine Prize and served as poetry editor for Gulf Coast. From 2009 to 2010, she held the Diane Middlebrook Poetry Fellowship at the Wisconsin Institute. Terrance Hayes selected Lauren's first collection, The Lifting Dress (Penguin), to win the National Poetry Series prize in 2011. She lives in Houston, Texas where she teaches AP English Literature at YES Prep Public Schools, a charter school for Houston's most underserved communities. Currently, Lauren is finalizing her second manuscript of poetry which is tentatively titled, The Agonist.
Shanon Adame is a dancer and performance artist. She has worked with a wide variety of artists in many different disciplines, including Jhon Stronks, Leslie Scates, Amy Ell, Daniel Adame, Ashley Horn, Rebekah Chapell, Stephen Koplowitz, Tino Sehgal, Tony Feher, Jim Nolan, Linda Post, and Sarah Draper. She has performed with The Pilot Dance Project, Freneticore Dance Theater, The Catastrophic Theatre, The Ornery Theatre, Mildred's Umbrella Theater Company, Boiling Point Players, Recked Productions, Frame Dance Productions, and Suchu Dance. Shanon has shown her work at the Frenetic Fringe Festival, The Houston Artery, The Foundry, Venturing Out, DiverseWorks, Suchu Dance, Suchu Dance's Comedy Dance Festival, and The Peace Festival. She was named one of the 2013 "100 Creatives" by The Houston Press, served on the Artist Board at DiverseWorks, and is one of the 2018 Dance Source Houston artists in residence.
###