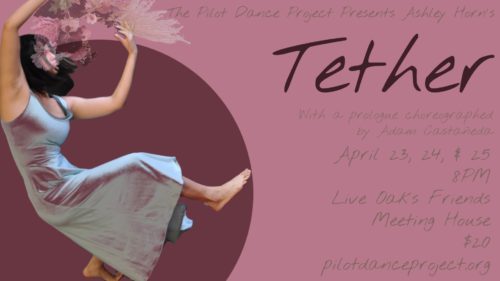 MEDIA ALERT
The Pilot Dance Project Presents "Tether," by Ashley Horn
April 23-25, 2021
Media contact:
Lauren Miller
(713)-263-4108
WHAT: For the first time since the onset of the COVID-19 pandemic, The Pilot Dance Project will unveil an in-person, evening-length dance experience! Choreographed by Ashley Horn, "Tether," is an attempt to find a sense of mooring in a turbulent time and place. The Pilot Dance Project's company and community dancers represent the interconnectedness of the human experience, the tenuous ties that create the world's ecosystems, and the people that inhabit them. In a world suffering from mass isolation, Tether attempts to offer an alternative perspective in which these ties can be healed, reaffirmed, and strengthened.
WHO: The Pilot Dance Program, a 501(c)3 non-profit arts organization, and Ashley Horn, a dancer, choreographer, filmmaker, costume designer, and artist from the Houston area. Tether features performances by six company artists, including Adam Castan͂eda, Lindsay Cortner, Jade Devault, Mia Pham, Ke'Ron Wilson and Lena Yeh. In addition, Tether includes two sections choreographed by Adam Castan͂eda, featuring 15 members of the greater Houston community, including Vanessa Alanis, Courtney Allen, Ana Barrios, Ashley Boykin, Nicola Bennett, Angela Brown-Collins, Hannah Dunning, Katherine Garcia, LaDondrea Harrison, Jaredd Martin, Kayla Mason, Paul McNeill, Tory Pierce, Becky Selle and Shylah Sylas.
WHEN: April 23, 24 and 25, 2021. Performances begin at 8 pm and tickets are $20 each.
WHERE: Performances will be held at the Live Oak Friends Meeting House at 1318 W 26th Street, Houston, 77008. Seating will be provided, but audience members are encouraged to bring blankets and foldable chairs for an intimate picnic-style arts experience, should they wish.
HOW: Those interested in purchasing tickets can do so at: https://www.eventbrite.com/e/tether-tickets-149435291981